Thanks for your interest in Jesus Christ / Joseph Smith. We are offering these products at a greatly discounted rate so that anyone who is earnestly seeking the truth may obtain them. Contact us at orders@goodnewsforlds.org if you'd like more information. Orders below will be processed through PayPal.com.
We would like to thank the organizations and individuals who made it possible to give away over 5,000 books and over 500,000 copies of the DVD Jesus Christ / Joseph Smith. Thank You!
If you would like to have a copy of the Jesus Christ/Joseph Smith DVD, or the book/DVD combination, they can be ordered here. Proceeds from all Book and DVD purchases go to cover actual project expenses. Good News for LDS is a 501(c)(3) non-profit outreach, and financial gifts above the fair market value of the DVD or book are tax deductible.
Shipping costs are for orders inside the United States only. International orders will not reflect accurate shipping costs through this website. For actual costs please email orders@goodnewsforlds.org.
Prices below do not reflect shipping and handling charges. A charge will be added to the order total at checkout.
For quantity discounts in resale or ministry please call 877.370.7770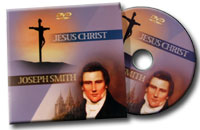 This DVD has made headlines all over the US and Canada. Jesus Christ / Joseph Smith takes a firm, detailed look at the teachings of Joseph Smith, founder of the Church of Jesus Christ of Latter-Day Saints otherwise known as the LDS Church. Using historical LDS church documentation this video compares Joseph's message with the biblical message of Jesus' teachings. Was Joseph Smith a prophet or a deceiver? You be the judge as you watch this informative 90-minute production.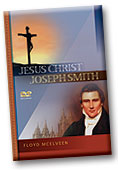 This is the book that inspired the DVD Jesus Christ / Joseph Smith. Packed with over 476 pages of information and documentation, Jesus Christ / Joseph Smith sheds even more light on the Church of Jesus Christ of Latter-Day Saints and the teachings of its founder Joseph Smith.